2022 New Jersey Football Preview: Rancocas Valley Red Devils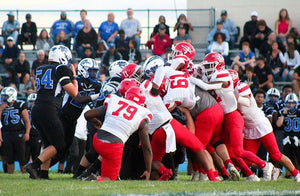 Rancocas Valley football has a pretty notable history in South Jersey producing lots of talent. Recently one of the more notable players to come from RV, is Iverson Clement. Clement originally spent his first 2 years in college at Florida but is now currently at Temple University. All time though is a bigger name in football. One of the greatest ever to suit up for the Red Devils was now NFL Hall of Famer, Franco Harris.
In 2021 Rancocas Valley had a very down year going only 2-8 with wins coming against Trenton and Pemberton. This year under a new head coach the Red Devils look to bounce back. Former Delran head coach Garrett Lucas steps into the role of head honcho. RV also receives a lot of their homegrown talent back as well. Players like Jerimya Paula and Kevin Burr who transferred back from Camden Catholic. Burr was the starting QB for the Red Devils in 2020. Last year as the starting QB for Camden Catholic, Burr completed 92 of 176 attempts for 1,258 yards, 11 TDs, and 6 INTs. Paula was the Fighting Irish's leading receiver last season. Paula hauled in 20 catches for 307 yards and 2 TDs.

There's quite a bit of inexperience at the skill positions for RV but Coach Lucas has confidence in his coaching staff and the returning players with experience to lend a helping hand. Coach Lucas has also used one of his former star players at Delran, Zach Palmer-Smith, as a coach at some summer practices for his younger guys before he went off to Wagner College to continue his football career. "I get to use his [Palmer-Smith] clips to show to the guys. I've actually had Zach back here as a coach so it's funny you bring that up. I've had kids that have played for me at any school come help out and give some advice. It really helps double down on the family aspect of the program we're trying to build here".
As the coaching staff fills out the skill positions on the depth chart, the line positions don't really need too much thought of who is going to play where. It's just a matter of when. On the offensive side, Rancocas Valley returns starters Chris Hugee and Hunter Matthews but the other spots will be most likely filled in with players who are familiar with the program as they have experience on the field. Defensively both starting interior defensive linemen return as Devon Brooks and Zach Boland look to cap off their Senior campaigns successfully. At the linebacker and defensive back spots, things get shaky with little experience but there is age as both cores have a good amount of Juniors and Seniors.

The expectation around the Red Devils program is to take it "day by day". Coach Lucas has a motto for his players which is "Believe. Compete. Win". "The kids need to believe in themselves. The competition and scenarios we run through in practice, we try to make it a game-like atmosphere on the field to get the best out of our players". Just like last year Rancocas Valley opens their season with Williamstown. The Red Devils look to bounce back from last year with a winning season. The opener against Williamstown kicks off at 7pm on Friday, August 26th. 
Chris Baker from NJ Athletics. You can reach Chris on Twitter (@cbaker_nj) or you can reach him by email (cbake2025@gmail.com). Be sure to check out NJ Athletics on Instagram (@NJAthletics) and on Twitter (@nj_athletics)