2022 New Jersey Football Preview: Offense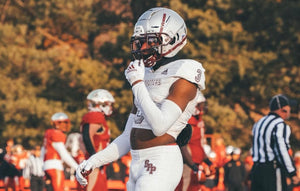 At the time of this writing, we are about a week away from training camp starting for New Jersey high school football. I've already covered the defensive side of the ball and the stifling squads from around the state. Last year was also a huge year for offenses around the Garden State with players like JC Landicini, Hamas Duren, Steve Angeli, and Nate Robbins lighting up the stat sheets in passing yards before graduating. Some teams will return quite a few impact players as others may lose a lot. Let's see who could make some noise this year:
Offensive Units
Don Bosco
The Ironmen have quite a bit returning from last year's state title run. Senior QB Nick Minicucci is back along with Senior RB Ronnie Heath and Senior WR Ethan Acevedo. They also have their whole starting offensive line returning as well including recent Texas A&M commit, Chase Bisontis. Minicucci threw for 1,406 yards while completing 110 of his 216 passes. He also threw 9 TDs and 6 INTs. Ronnie Heath took 219 carries for 1,287 yards and 15 TDs. Top returning WR Ethan Acevedo hauled in 24 catches for 349 yards and 4 TDs. Another returning WR is Senior Dan Parisi who had 16 catches for 177 yards and a single touchdown. There is a bit of experience throughout the depth chart whether it was brought in through blowout wins or rotations but overall Bosco is clearly set to do lots of damage in New Jersey this year. 
St. Peter's
St. Peter's will come into the 2022 season with a chip on their shoulder after losing in the state semifinals to Bergen Catholic. Leading the way will be Senior QB Champ Long who is heading to College Park, Maryland after the season to possibly become the future QB of the Maryland Terrapins. Long threw for 1,849 yards, 20 TDs, and 9 INTs. The Marauders do not return their top 2 RBs but Sophomore RB Jalen Cline does have a touchdown and had 14 carries for 85 yards last season. The receiving core is certainly still going to be strong with standouts like Pitt commit Zion Fowler, Hassan Moore, and Jamei Schneck all returning. Fowler led the way with 31 catches, 562 yards, and 7 TDs. Schneck had 15 catches, 252 yards, and 2 touchdowns. Finally, Hassan Moore brings back experience as last year he totaled 18 catches for 195 yards and 2 scores. The offensive line for St. Peter's will prove to be helpful as they return 4/5 starters. The only loss is Andre Oben who is now at Purdue playing football. With a question mark at running back, an experienced receiving core, offensive line, and quarterback will certainly help cover up any holes.
Ramapo
With Ramapo's season ending in heartbreak to Northern Highlands in the sectional final and playing with heavy hearts after their head coach Drew Gibbs collapsed at practice, then unfortunately passing away the following morning, the Raiders will be playing this season with a chip on their shoulder and their former head coach on their mind. Leading the "revenge tour" will be Harvard commit and QB, Jack Grusser. Grusser completed 66% of his passes for 2,693 yards and 32 TDs along with 5 picks in his Junior campaign. Also returning is starting senior running back, Ethan Moran. Moran took 155 carries for 870 yards and 10 TDs. Completing a three headed monster in the offense is Senior wide receiver Ben Robinson. Robinson hauled in 69 balls for 976 yards and 12 scores. Will Scordato also adds depth to the receiving core as the Senior had 20 catches for 440 yards and 4 TDs. Ramapo returns at least 3/5 of their offensive line. Seniors Anthony Mackle, Rocco Otazu, and Luke McEnery return to man the guard positions and Mackle to secure the edge at tackle. Sebastian Ashkar and Tom Shokoff also have experience on the line as well. The Raiders surely have a checklist of goals for the season. With a lot of returning experience on offense they will have an easier path at checking off each goal. 
Woodbury
The Thundering Herd rumbled into the South/Central Group 1 Regional final against a stifling Salem defense. The Herd lost the game but are coming into the 2022 season with a chip on their shoulder. They averaged 31 points per game in their 2021 campaign. Woodbury returns 9 starters on offense this year. The Herd got their southpaw Senior QB back, Bryan Johnson. Johnson threw for 2,415 yards last year along with 21 TDs and 12 INTs. There is a hole at RB, but Senior Derron Moore had a bulk of the secondary carries behind now William Paterson Pioneer, Teddy Lockhart. Derron Moore took 26 carries for 180 yards but had 0 TDs. The primary parts of the receiving care all return for Johnson. Dom Abbatelli, Jayden Johnson, Ja'Bron Solomon, and Wilson Torres all had over 350 receiving yards last year. Abbatelli had 38 catches for 454 yards and 4 TDs, Jayden Johnson hauled in 26 catches for 361 yards and 3 TDs, Ja'Bron Solomon caught 41 passes for 657 yards and 5 TDs, finally Torres snagged 27 catches for 411 yards and 4 TDs. The offensive line returns 3/5 starters in JaSuan Solomon, Colin St. John, and Jamar Wallace. Both St. John and JaSauan Solomon return at the tackle spots as Wallace returns to center. As of right now the only question marks come at the guard spot but I feel it will be no problem for Woodbury. With a very top heavy S/C Group, Woodbury will make another run for a sectional, regional, and maybe even state title. 
Cherokee
The Chiefs ended their season on a high note on Thanksgiving with a 42-7 win over Seneca. Another high note for Cherokee is that they return 7 starters from last year's squad. Junior QB Ryan Bender is back to man the offense. Bender completed 59 passes for 938 yards and 7 TDs along with 2 picks. Bender also rushed for 630 yards and 8 TDs. One of the top running backs in the state returns as well as Brandon "Bam" Boria is back for his senior year. The star rushed for 1,694 yards and 23 TDs on 208 carries. Cam Burti, Tommy Pajic, and Jake Zubrzycky round out the 3 starting WRs as Trent Osborn is worked into the rotation. Burti had 7 catches for 147 yards and 1 TD, Pajic had 9 catches for 162 yards and 0 TDs, Zubrzycky had 4 catches for 133 yards and 0 TDs, and Osborn hauled in 3 catches for 34 yards and 0 TDs. The offensive line sees 2 starters returning as both Jake Ellis and Dom DeChurch look to end their high school careers with some hardware in their senior year. Cherokee looks to fill one of their guard spots and both edges with Zach Ott, Dylan Grau, and Aidan Edelson looking to be the filling players for each spot. Cherokee will have a tough road ahead to a division championship as they have to fight St. Augustine, Millville, Shawnee, Lenape, and Williamstown for the American division crown. 
Players To Watch
Quarterbacks:
Jack Grusser- Ramapo (Sr.)

Deante Ruffin- Camden (So.)

Scott Lynch- Audubon(Sr.)

Nick Minicucci- Don Bosco (Sr.)

Tyler Douglas- Ocean Township (Sr.)

Micah Ford- Toms River North (Jr.)

Robert "Champ" Long- St. Peter's (Sr.)

Connor Leary- Highland (Jr.)

Billy Smith- Cedar Creek (Jr.)

Jacob Zamot- Millville (Jr.)

Marco Lainez- Hun School (Sr.)

Bryan Johnson- Woodbury (Sr.)

DeAngello Conquest- Overbrook (Jr.)

Jacob Sconza- River Dell (Sr.)

Austin Frattura- Sparta (Sr.)

Riley Gunnels- Ocean City (Sr.)
Wide Receiver:
Ben Robinson- Ramapo (Sr.)

Lotzeir Brooks- Millville (So.)

Ta'Ron Haile- Millville (Jr.)

Zion Fowler- St. Peter's Prep (Sr.)

Ejani Shakir- Winslow (Sr.) 

Preston Moore- Paulsboro (Sr.)

Famah Toure- Irvington (Jr.)

Jayden Johnson- Woodbury (Jr.)

Ja'Bron Solomon- Woodbury (Sr.)

Alim Parks- Cedar Creek (Jr.)

Darrell Brown- Kingsway (Sr.)

Chase Lorencovitz- Wallkill Valley (Sr.)

Zyheem Coleman-Frazier- Timber Creek (Sr.)

Luke Hoke- Audubon (Jr.)

James Wilson Jr.- Winslow (Sr.)

Charly Mullaly- Peddie (Sr.)

Nasir Addison- Irvington (Sr.)

Omaree Walker- Don Bosco Prep (Sr.)
Running Backs:
Stefano Montella- West Morris Central (Sr.)

Ronnie Heath- Don Bosco Prep (Sr.)

Bam Boria- Cherokee (Sr.)

Kerry Nicholas- Bordentown (Sr.)

Nasir McGlone- North Plainfield (Sr.)

Angelo Rodriguez- Highland (Sr.)

Zaimer Wright- Sayreville (Jr.)

Yasin Willis- St. Joe's Regional (Jr.)

James Hill Jr.- Woodstown (Jr.)

Elijah Jennings- Pennsauken (Jr.)

Justin Brown- Triton (Sr.)

Julian Jones- Monmouth Regional (Sr.)

Jacob Rodriguez- Hudson Catholic (Sr.)
Offensive Live:
Chase Bisontis- Don Bosco Prep (Sr.)

Juan Minaya- Paramus Catholic (Jr.)

John Stone- Washington Twp. (Sr.)

Logan Howland- Hun School (Sr.)

Eric King- St. Peter's Prep (Sr.)

Nick Oliveira- Clearview (Sr.)

Kenny Jones- Delran (Jr.)

Cole Skinner- Point Pleasant (Sr.)

Anthony Crawford- Union City (Jr.)

Tyler Burnham- Red Bank Catholic (Jr.)
photo provided by Visual Hub Media (thevisualhub)