2022 Football Playoffs - Group 3 Preview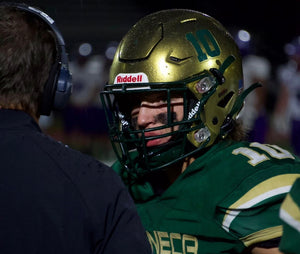 North 3 Section 1
1 Old Tappan vs 8 Lincoln
2 Hillside vs 7 Parsippany Hills
3 River Dell vs 6 Vernon
4 Sparta vs 5 Mendham
North 3 Section 2
1 West Morris vs 8 Hackettstown
2 Cranford vs 7 Wayne Hills
3 West Essex vs 6 Paramus
4 Montville vs 5 Warren Hills
Central 3
1 Seneca vs 8 Somerville
2 Camden vs 7 Nottingham
3 Timber Creek vs 6 Cedar Creek
4 Manasquan vs 5 Highland
South 3
1 Delsea vs 8 West Deptford
2 Ocean Township vs 7 Burlington Township
3 Hopewell Valley vs 6 Matawan
4 South Plainfield vs 5 Camden Eastside
The Favorites
West Morris
9-0, 1st seed in UPR North 3 Rankings

Last season: North 3 Regional Champions

West Morris Central was expected to take a bit of a step back following their championship season after losing quarterback Trevor Hillier and other key pieces. Instead, they may be even better and one of the best teams Coach Hennelly has had in his long tenure. Brown-bound Stefano Montella has over 1,700 yards rushing and 101 tackles on defense. He is a game-wrecker that has his paws all over every one of West Morris' wins. The dynamic duo of Montella and WR/CB Vinnie Desiderio paired with a ferocious line led by Collin Leonhardt has this West Morris team poised for a repeat.
Old Tappan
7-1, 2nd seed in UPR North 3 Rankings 

Last season: Lost to West Morris in Sectional Semifinal

Old Tappan was close to a perfect regular season, but a shootout with Ramapo put the only loss in their column. This team has a ridiculous amount of talent and features a premier defense. Dennis Delaney consistently breaks into the backfield and did so to the tune of 63 tackles and 5 sacks on the season. He is backed by an offense with plenty of firepower, with quarterback Tommy Caracciolo, running back Aidan Heaney, and receiver Evan Brooks. With quality wins over the likes of Northern Highlands and River Dell, Old Tappan can beat most teams and hang with anyone in the state. 
Camden
7-1, 3rd seed in UPR South 3 Rankings

Last season: Did not play in playoffs

The High has arrived. Deante Ruffin has led Camden to a season without a loss through their in-state schedule. The only blemish on their record is a loss in Ohio to state powerhouse Chardon. Ruffin, a sophomore quarterback, passed for over 1,300 yards with a TD-INT ratio of 16-9. He added 200 yards and five touchdowns on the ground. This Camden team is still young, which is the most exciting part about them. The upstarts from down south have a ton of confidence and swagger, and look to ride their smooth play to a state championship.
Delsea
8-0, 1st seed in UPR South 3 Rankings

Last season: Sectional final loss to Cedar Creek

Arguably the best public school in the state, Delsea has a hard road ahead but it's nothing they can't handle. A strong defense that comes up in the clutch is paired with a devastating ground attack. Delsea has scored 33+ on six occasions and has never scored less than 26. Their offensive onslaught is a problem for other teams and their defense always steps up when it matters most. The locker room at Delsea should be expecting nothing less than a state championship trip this year.
The Contenders
Seneca
8-0, 2nd seed in UPR South 3 Rankings

Last season: Did not play in playoffs

Seneca went 3-7 a year ago, but that's in the rearview mirror because they have flipped the script and gone perfect through the regular season. Their offense is led by quarterback Brayden Davis and running back Zac Fearon. Seneca focuses on the run game with these two players, but if the run isn't working they turn to Davis' arm to make opposing secondaries pay. Fearon leads this defensive unit as well, with 69 tackles and two interceptions. This defense has allowed a touchdown or less in every game but one. As the first seed in the Central section, they are automatically considered among the best
Hillside
7-1, 3rd seed in UPR North 3 Rankings

Last season:

Hillside lost one game on the year to a St. Thomas Aquinas team that is among the best in Parochial B. With wins over Bernards and Delaware Valley, they some quality wins to go on their resume along side their highly lopsided score differential. Hillside won't just drop five touchdowns on you, but they won't let you get more than a few (if any). Quarterback Caleb Salters and running back Kyon Simonson spearhead an offense with 31 points or more in six games. Tackling machines McNaully Erminal and Zaimir Hawk back a defense that goes toe-to-toe with every offense they face and never back down or show weakness. 
Ocean Township
8-0, 4th seed in UPR South 3 Rankings

Last season: Did not play in playoffs

Ocean Township finished undefeated and won the Shore-Freedom division. They have a marquee win over Raritan. But most importantly, they have a bunch of high level players littered across their roster. However, no one stands out as much as quarterback Tyler Douglas. Douglas has rushed for almost as many yards as he has passed, and paces the explosive offense that they send out. They enter the murderers' row of the playoffs, with four undefeated teams holding the top four seeds of South 3. Ocean Township is ready for an all-out brawl in this bracket. 
Hopewell Valley
8-0, 5th seed in UPR South 3 Rankings

Last season: Lost to Wall in Sectional Quarterfinal




Hopewell Valley should feel disrespected being ranked fifth overall in the South. Their may be four other undefeated (in in-state competition) teams ahead of them, but they have some gaudy stat lines. Tim McKeon has thrown for over 1,700 yards with 19 touchdowns to only two interceptions, Justin Klotz has received almost 800 of those yards and caught nine of those touchdowns, and Derek Van Brunt has rushed for over 1,000 yards of his own with eight touchdowns. They have serious weapons on offense, and their defense is just as good. Hopewell Valley excels at getting to the backfield and has a great secondary. They should have a chip on their shoulder coming into playoffs.
The Sleepers
Camden Eastside
3-4, 9th seed in UPR South 3 Rankings

Last season: Lost in South 3 Regional Championship to Cedar Creek (Woodrow Wilson)

You may look and scoff at their record, but not many teams just got two of the best players in the country back from the transfer rule. Will Love and Will Norman now have a few games under their belt, and are familiar with their team on the gridiron. When you have two big time athletes join a team that already had some talent at key positions, you are brewing an upset waiting to happen. 
Vernon
6-2, 11th seed in UPR North 3 Rankings

Last season: Sectional Quarterfinal loss to River Dell

Vernon made the playoffs first the first time in a long time last year, but we knocked off in their first game against River Dell. They will meet that same River Dell team again in the opening round this year in a three versus six game that could go either way. Vernon lost two in a row in the final minutes earlier in the season to good teams in Sparta and Jefferson. They have since rattled off five wins in a row backed by the backfield duo of quarterback Derek Lazier and running back Gage Moskowitz. If this balanced attack from Lazier and Moskowitz gets rolling early, Vernon could make some noise in Group 3.
Sparta
5-3, 6th seed in UPR North 3 Rankings

Last season: Lost to Cranford in Sectional Final

You can never count out a team with the pedigree and talent of Sparta. Their three losses have come against some of the state's best in Ramapo, West Morris, and Newton. They looked heavily improved and ready for the playoffs in a hard-fought loss to Newton last week. Holy Cross-bound quarterback Austen Frattura is among the best in the state and he has two playmakers in his backfield in Josh Brancy and Brandon Cabrera. If Sparta's defense can get the big stops in key moments, Sparta will go down swinging. 
West Essex
5-3, 5th seed in UPR North 3 Rankings

Last season: Lost to West Morris in Sectional Final

Wayne Valley. Caldwell. West Morris. Those are the three teams West Essex has lost to. All three of them have zeroes in their loss columns and their closest games happen to include West Essex in them. This team lays hard football, and do not go down without a fight. All three of those teams were put on upset watch when the had to face West Essex. No team in the playoffs is as poised to get over the hump and win these close games as this team. Their ground attack and defense led by stud Mike Maglione is ready for the playoffs and do not expect an early exit.